Sick. Again. Or still, or something. At any rate: head is pounding, ears are hurting, and I can barely hear. Yay, head colds. So! Here you go, enjoy. Written entirely while hopped (down?) on cold medication.
23 Breeze
Okay THIS HOUSE is beautiful. The exterior colors really get me, too. I'm not usually one for the modern living (more of a Frank Lloyd Wright Prairie Home kind of gal), but this house is just so pretty pretty pretty and bright with a great mix of modern and beachy and oh! It just screams 'California'. Now: if I only lived in LA and was independently wealthy.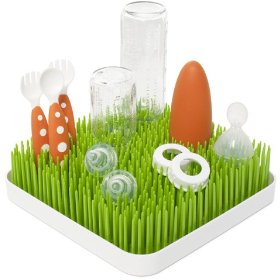 Boon Grass Drying Rack
Now: not only do we have a drying rack that works perfectly fine and is compact (and we have no need to replace it), but also I am far from in the market to be buying such a thing anyway, with a kid soon moving to The Cup (eep!). With that being said, I saw this pretty little thing on another blog and just had to post about it, because seriously! Adorable! And probably works rather well to be honest, no spots-only-made-to-hold-certain-sized-items, compact. Um, ADORABLE. So, soon-to-be-mommies: I think you need this.
50 Bags

Like any other lady I keep several fun little party bags around. When comes to my everyday purse, I'm a little more monogamous - I only get a new one every couple of years, and I make sure to invest in a nice replica. The bag I have now is an "inspired"
Balenciaga motorcycle
. Before that I had a wannabe
Luella Bartley Gisele
. My diaper bag, too, is a fun little
Birken
knock-off. So, you see? No Coach for me, thank you. Not my style. No Kate Spade, no Juicy, no brandy-brand-logo-ish bags. And that goes for those fake Vuittons, too.
Anyhoo, my point: I need a new bag, really should have replaced my current one like a year ago, but I never found much inspiration anywhere. So I head out the door every day with a well loved but still tired-old-thing of a handbag. Enter: the LA Times "50" column. A few weeks ago they did 50 Classic Bags, and I must say this article has totally inspired me to finally get off my duff and buy a new handbag (well, and the fact that the handles on my current bag have seen better days). Look at all those classic beauties! Maybe something similar to the YSL Muse, or a Prada tote, or the Chloe Bay…
Crockpot Chicken and Dumplings
Okay, so I used a random photo and I don't have this posted anywhere, so here you go: In a crockpot, dump in 2 cans cream o' chicken, 1 can chicken broth, 1 chopped onion, celery salt and poultry seasoning to your liking (S&P too), 2 Tbsp. butter. Mix. Then stir in a bag of your favorite frozen veggie mix (still frozen!). Submerge 4 boneless, skinless chicken breasts into the mixture (can also still be frozen!). Turn on Low and let 'er go for 6-8 hours.
After that, take out the chicken and shred, then dump back in. Add cornstarch if you want it a little thicker.
Take a can of biscuits, and tear biscuits into pieces and toss into the crockpot. Push them down to submerge a bit, then pop the lid back on and let it go on high for 1-2 hours.
YUM. And! Not only a nice mindless thing to make when you don't have the energy to cook, but also very very nice indeed when you have a yucky cold. Bless you for sharing that recipe, drewie dear.
Okay dudes, I'm out. My cozy warm bed and on-demand episodes of How I Met Your Mother await.